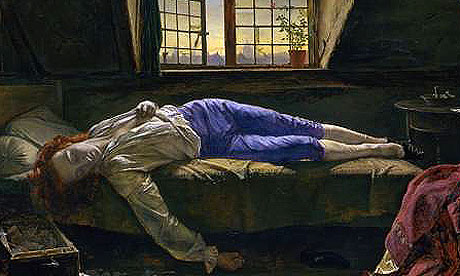 Henry Wallis has a lot to answer for
. On exhibition in 1856, his deliciously necrophilic painting of the 17-year-old poet Thomas Chatterton –lolling in a garret, poisoned by his own elegantly consumptive hand and blighted by the unappreciative cruelty of the cold hard world – became instantly, and enduringly, iconic. Forget Benjamin Zephaniah or Carol Ann Duffy; this skinny eighteenth century Emo kid with a penchant for self-harm and a dodgy taste in cornflower blue pantaloons still epitomises most people's notion of what a poet should be. The stereotype may be romantically appealing, but it's also alienating and disempowering. In a time when we have such a diverse and modern poetry scene, why does it still have such an abiding hold?
The myth of the otherworldly poet is as old as writing itself, but it's the Wallis generation who really dug it in. Blindness has long been used to bestow divine authenticity upon poets, from Homer to the fictional Celtic bard Ossian, as if a lack of outer vision deepens the inner kind. However, it was the self-mythologising 19th-century Romantics, with their trembling apprehensions of the sublime, who really cemented the impression that a poet's life must be as incompetent as his art is transcendent. And modern films are more than happy to sustain the stereotype by focusing on the frail and the fey - Tom and Viv, Mrs Parker and the Vicious Circle, poor defenceless Sylvia.