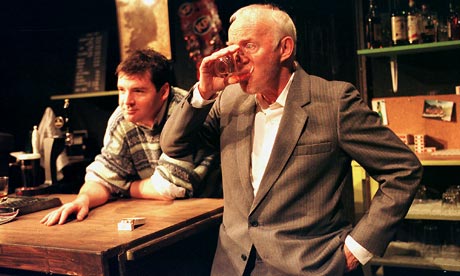 In the UK, theatre and alcohol go together like Falstaff and sack. When 16th-century companies of roving players visited a town, chances were they'd end up in an alehouse yard with an audience as interested in the porter as the poetry. Even when British theatre started to put down roots, actors had to shout across the clamouring hawkers of booze and grub who gravitated towards Elizabethan playhouses such as the Globe and the Rose.
The bar has always been at the heart of a theatre. Not so long ago, it was most likely to be a humble, unlovely little corner where you would anaesthetise the pain of the third act with a watery ale, or hang around in the hope of getting a sweaty handshake from a track-suited off-duty thesp. It may have been a functional, haphazardly stocked meeting place, but the company was lively, local and usually worth a hangover.
In some small theatres, this spirit of low-key sociability still applies; usually in the London fringe – the Arcola is a lovely example – or regional theatres, where the actors are sharing a nearby bedsit and have nowhere else to go. And of course theatre pubs, such as the Old Red Lion in Islington or the Old Joint Stock in Birmingham, are perfect for those who like a chaser of play with their pint.