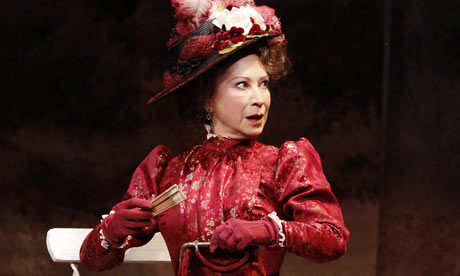 Julie was delighted when I told her I was getting married, but there was a flash of amusement in her smile.
"What?"
"It's just that your generation seems so … conventional". Julie, a theatre director and actor, is 60. Although she has a long-term partner, she has never married, and her group of peers, rebel-spawn of the 60s, have slid unconcerned between husbands, lovers, children and singledom. From her mouth, conventionality sounded damning indeed.
My creeping sense of condemnation was compounded when I went to see Mrs Warren's Profession, currently playing at the Comedy Theatre. The mysterious, alluring Mrs Warren – deliciously embodied by Felicity Kendal as a growling panther pretending to be a beribboned pussy – is defiant in her right to play the patriarchal system on her terms, having transformed herself from impoverished victim into brothel-owning success. In contrast, her buttoned-up daughter Vivie – even better played by Lucy Briggs-Owen as a forthright, sturdy auburn Shetland pony – cannot accept that her ideal of the New Woman is financed by her mother's prostitution. As Mrs Warren's friend Mr Praed says, "I'm not sure, from what I have seen of her, that she is not older than any of us".
Bernard Shaw wrote the play in 1893, and the dynamic of wild mothers and mild daughters in the theatre is nothing new. But I have noticed Saffy syndrome emerging as a notable theme in productions of recent years.