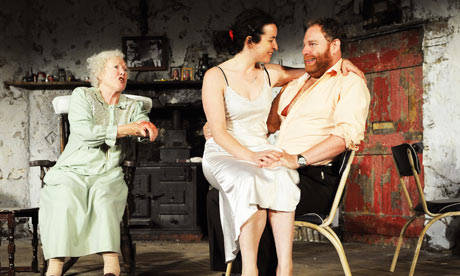 Martin McDonagh's The Beauty Queen of Leenane, currently running at the Young Vic, is a feast of quotable lines and memorable scenes. But of all the reasons why this 1996 play consistently charms audiences and press alike – the black wit, the flashes of gore, the beautifully observed details of Irish life – surely the most powerful is the central figure of 70-year-old Mag Folan: a viciously manipulative mother locked into damaging co-dependency with her equally vicious 40-year-old virgin daughter.
When I saw Joe Hill-Gibbins's revival at the Young Vic last week, a particular frisson passed through the audience when Rosaleen Linehan, the 74-year-old actress playing Mag, took her bow. As we left the theatre, the comments around me all focused on either Mag or Rosaleen. "The whole Complan thing was a bit too close for comfort," said one middle-aged woman; "I remember trying to get the lumps out for my gran." "I wonder how old that actress is," said a man in his 20s, "she's so sharp." And I noticed several other young women shooting their mothers the same half-loving, half-terrified look I was directing at mine.
KEEP READING AT THE GUARDIAN...